How to Write SEO Blog Content
& Attract New Customers
Jun 30, 2021 10:44am
---
How to Search Engine Optimise your Kajabi blog?

Optimizing your blog posts correctly using On-Page techniques can have a dramatic impact on the ability of your website and content to rank highly on Google. This Blog Post Has Been Structured on Kajabi As An Example, the content is relevant for any platform and refreshed according to the latest Google core update - July 2021

"Google recommends you create a blog and add regular high-quality content to increase your website ranking on search engines"
How do you create high-quality blog content?
The latest Google core search engine updates are focused on the best possible user experience. Create blog content that engages with your customers with high-quality content that remains relevant, update it frequently to encourage your audience to return.
High-quality SEO blog content that incentives your customers to read and return for more are what makes high ranking domains worthy of a search result position.
Write for your customers, not search engines

When writing the focus should be on your customer personas, not how do I get the search engine to find you. Choose topics to interest your customers and solve their challenges it will resonate more with your potential customers and more people equals more chances of ranking by search engines.


What does a good SEO optimised blog page look like?


An ideal SEO blog page needs structure and does all of the following:


Be hyper-relevant and unique about your specific topic 

Include the topic in the title (title tag)

Include the topic in the URL (as short as possible)

Include the topic in your image alt text

Links to home & category pages

Mention the topic several times throughout the copy
3 TIPS FOR GOOD SEO BLOG STRUCTURE
1. Create a short headline that includes the keyword topic you are optimising for, this blog post is optimised for SEO and Blog


Your headline (or Title Tag), needs to be attention-grabbing (not click-bait), unique titles help people (and search engines) understand your content is valuable, and these titles show up in search results (SERPS), so something that stands out from the crowd will get clicked more, but not so unique that it's weird.

Google does not set a character limit, but results tend to roughly show the first 60 characters (length is actually based on 580 pixels) of a title tag, like this blog post below. We tend to place keywords at the front of headlines and if you have a recognisable brand, like Kajabi or Motivation Digital at the end.




/>


NB: Some longer titles naturally work better, so the only way to find out is to test, and often dates at the end of the title making them more clickable.

How to add SEO tags to your Kajabi Blog, (did you see what I did there?)
There are two places to update the title tag for the Kajabi post. They can both be the same, but we want a simpler headline and the public "Page title" at the bottom (seen by the search engine) to be front-loaded with the Kajabi keyword.

NB: Don't add your keyword to every title like this, it's spammy!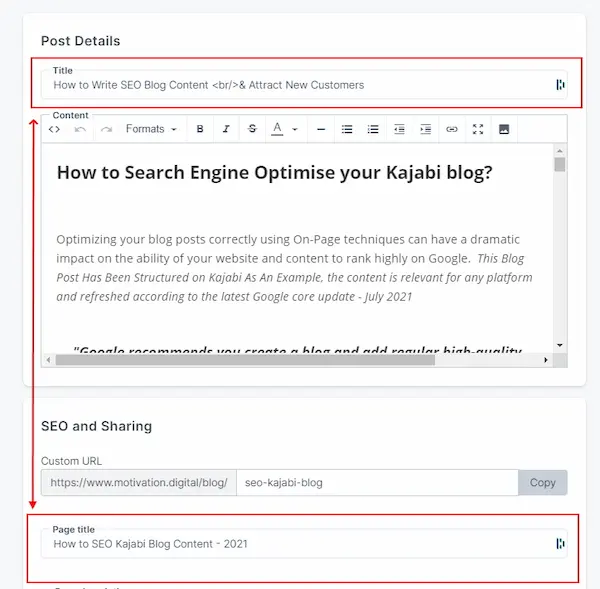 2. How to create blog structure by using headings


When you read a book you expect it to have a beginning, a middle and an end. To flow between those three elements, we use chapters, pages, paragraphs and lines, they have structure to make the flow of the reading easy and more interesting, blogs and website content are no different.

Headings help Google's web crawlers understand your blog post and the content sections within it. This is very easy in Kajabi.

Your readers and the crawlers are using the headlines to view the structure and we use different heading tags to break down the sub-topics in your blog post content. This is another opportunity to use the keywords in your subheadings as well.
Using your keyphrase in the blog subheadings
The Headings give you a great chance to focus on your keyword (or its synonyms), to make it clear what the blog post is about. By adding your keywords (or phrase) to your subheadings, you stress their importance. Importantly, if you're trying to rank for a keyphrase, you'll have to write about it.

NB: Do not "keyword stuff", adding the keyword all over the page without meaning
Example of the headline structure in your Kajabi blog post:
There are several header tags, format dependant, h1, h2, h3, and even h4, h5 and h6 if your content has a lot of depth. But my advice is to keep it simple.


H1 | Write SEO Blog Content & Find New Customers [2021]
H2 | How to Search Engine Optimise your blog
H3 | So how do you create high-quality blog content?
Adding blog post headings and tags in the Kajabi editor
How do you add headings? If you're using Kajabi, there are a couple of ways to do this:

Using the Kajabi blog editor is very simple:

Using the Kajabi HTML Source Code Block


It's a little fiddly if you don't know what you're doing. But also very handy to see the structure in the code and remove some of those unwanted spaces. You can change the heading tags <h1>, <h2>, <h3>, etc. easily to specify each type of heading. End each heading with a closing tag like </h1>.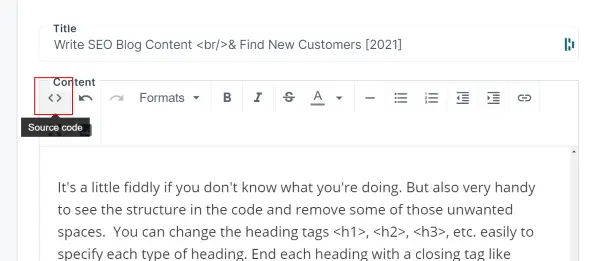 Look at the raw code within the source code block below, I've added spaces for ease and highlighted the title tags and the blue paragraph <p/> tags.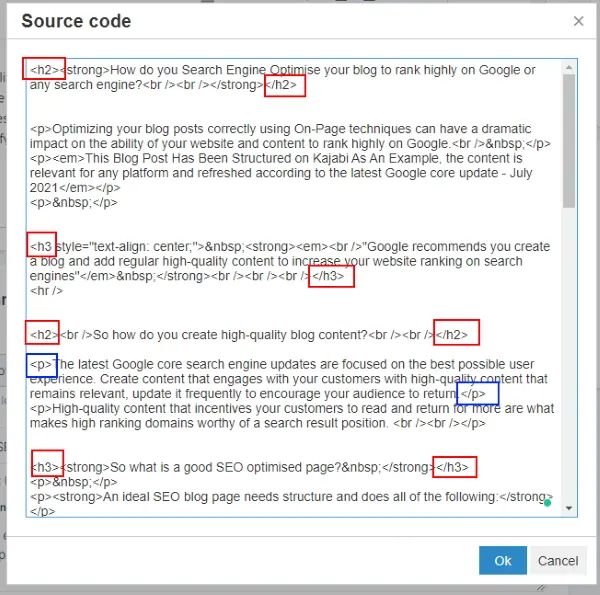 3. How to add SEO metatags in your Kajabi blog


Meta-description - The copy in the description is very important, as your customers are browsing the results page (SERPs), they'll see the content written below the title tag, it doesn't influence ranking, but it may influence the decision to click the link.

Optimal length - Google will truncate snippets to 155–160 characters, so we recommend them to be long enough to be descriptive but below 160 characters, but focus on value first.

Page Image - The page image will be shared when you post the link on public channels such as social media, Facebook etc, if you want people to share it, it needs to make sense, would you share it?
 Adding Kajabi Image Tags - This is where you must use the source code editor.  
Search for img in your source content and add the code  alt="Image Alt Tag" 
and title="Title Tag", right after the image URL, see below.

<p> img src="https://kajabi-production/blogs/17680/images/kajabi-blog.jpg" 
alt="Kajabi Blog SEO" title="Kajabi Blog SEO"</p>



Want to know more about SEO? Click here.
---
---