Case Study - Health & Fitness: DreamBodyClub.com
Apr 03, 2022 7:10pm
---
How we rebuilt DreamBodyClub into one of the biggest, most-advanced health and fitness platforms for Russian-speaking women.


Learn about how we pushed Kajabi's limits, developed integral design and strategy concepts and redefined what's possible: all in a single project.
"It has been amazing to be on this journey with Motivation and see how they were able to develop so many edge-cutting custom solutions!" - Oksana Novozilova


Oksana created DreamBodyClub to help all girls have quality and affordable online resources to improve their bodies and health, and ultimately find a community that will motivate, inspire and support them.


Challenges
Simplify the decision-making process to eliminate confusion and bounce-backs


The variety of courses and challenges that DreamBodyClub offers was found to be often too overwhelming for the target audience to make a decision on their own.
Improve the user journey to enable members to get the most out of their membership

As a health and fitness brand, DreamBodyClub had many tools and products that needed to be included in the membership, but not a solid structure for accessibility.
Design a product that can showcase all content


Recipes and workouts were one of the main components of the DBC membership, however, navigating inside the product was extremely difficult due to the volume of the content included.
Solutions
Custom Checkout & LaunchPAD Page Editor

Simplifying the sign-up process was key to our strategy. We were adamant that we needed to provide a free, no credit card needed trial to remove any barriers from the decision-making process. Not only that, but we created a dedicated plans page that simply showed the available memberships and what each offer contains, enabling leads to compare and easily make a decision.


An important component we needed to keep in mind on this project was the multiple currencies DreamBodyClub provides. We decided to use a Redirect - a LaunchPAD component, that sent members straight to a relevant, euro checkout where users were able to not only switch between currencies but also switch between plans, giving them the flexibility to choose the right plan for them all in one place.
Improving the user journey for a brand that has plenty of content meant only one thing - deploying Dashboard. Dashboard is a membership system, built on LaunchPAD, which enables us to design any interface for logged-in members.
Using Dashboard, we were able to structure the membership and all its components. We even developed a second Dashboard that was user-specific. It allowed members to keep track of their subscription, edit their account details and payment information, as well as update their measurements and keep the score of their Health Index.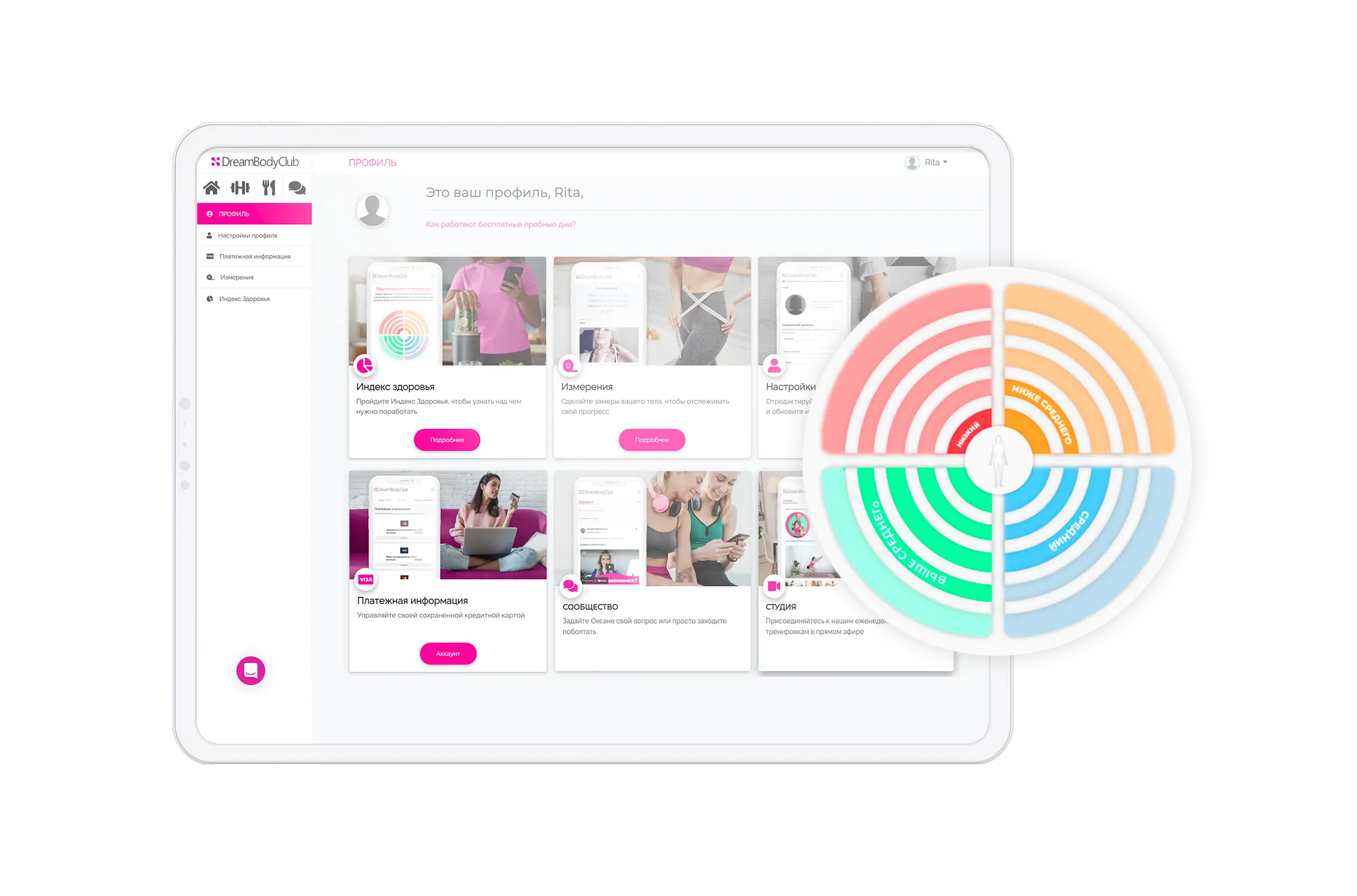 LaunchPAD Products - Recipes & Workouts


We thought long and hard about how we wanted to showcase product content and we knew that it was not going to be easy to accomplish this on Kajabi. Our development team spent many hours building a LaunchPAD product theme that just brought the product to life. It enabled us to include a product filter that could sort through posts based on a tagging system, making it that much more convenient for members to find what they're looking for in a matter of seconds.


Results
We put a lot of time and effort into turning DreamBodyClub into an amazing, technologically advanced platform that ultimately streamlines both the user journey and the back end for our client to manage.
The new software was developed that enabled us to build beautifully designed pages that convert leads into paying members.


---
"
I loved working with Motivation's team, the strategies, designs and software they did were remarkable. It was amazing to see how quickly they understood what my ideas were and how they brought them to life. Some of the custom designs they did blew me away and I couldn't believe that was all possible on Kajabi. I cannot wait to work with them again!"


---
---
---