How to Record a Live Stream in LaunchPAD Studio
Feb 24, 2022 1:44pm
---
A brief guide on how to record a live stream while going live in Studio on your Kajabi website.
Live streaming requires a lot of hard work, time and resources. When you're investing a great deal into your live streams, you're going to want to keep a recording of your live stream for future use.
Whether you want to offer your customers on-demand access to the stream after the event or you want a copy of the live stream for your archive, recording your event is a great idea.
In this post, we're going to cover everything you need to know about recording your live streams in Studio on your Kajabi website.
How to record a live stream in Studio
To record your live stream do the following:


Open Studio as a Host. If you don't know how to do it, read this article.

When you are ready to record, press the red/green button Start on the top right corner of the screen. This will begin your recording.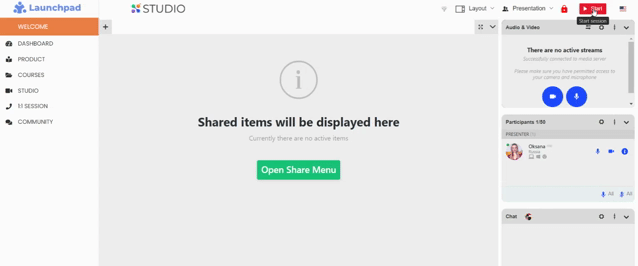 By pressing Stop, you will finish your recording but at the same time, you will finish your event and close it. Make sure you've said goodbyes and answered all the questions.
By pressing Stop recording & streaming will stop immediately and your participants will be redirected to the Dashboard
Your recording will be stored in the Vault. You can watch, download or delete it from there. Don't know how to find or use it? Learn about the Vault from here.
---
---